Facebook Advertising Tips to Skyrocket Your Business!
While it's important to keep an eye on updates and to also try different strategies for boosting your reach, there will no doubt be times that you also need the help of Advertising. But what are the best Facebook advertising tips and tricks for your business?
According to Kissmetrics, in order to draw in customers on a social platform such as Facebook, you first need to use a simple conversion technique that doesn't require a huge commitment; for example, asking your customer to sign up for a service, fill out a short lead form or submit an email address for newsletter marketing. A good example of companies who do this, are Daily Deal sites such as Groupon – who ask for your email address when you click their ad, and then send their deals through to your email later. These types of ads are known as low-friction conversions.
Today however, we'll run through 3 simple steps that you can take in order to reach the right Facebook audience.
Option #1 – It's all about Images!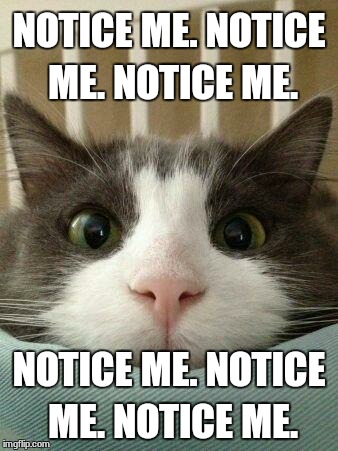 This may seem common knowledge, but it's vital to ensure you include an eye-catching image with your Facebook ad. Your product might be brilliant, but words alone won't convince a user to interrupt their social networking to look at your website. Kissmetrics recommend avoiding low-quality or stock images, and instead using your own product images, or ones that you have a license to use. Images of people's faces also work well as attention-grabbers!
Option #2 – Try Boosting posts
Sometimes your posts need a little extra oomph to reach more people, and this is where paid posts can help! Boosting your posts is probably one of the easiest options because you simply need to click on the 'boost' button in the lower-right corner of your post, choose the audience and budget (based on how many people you want to view the post), and what time-frame you'd like it to run for. Once you've added your payment details you're all done!
For example, in the below 'test' example, you can see that we have the option to set the audience, budget and duration (along with other options).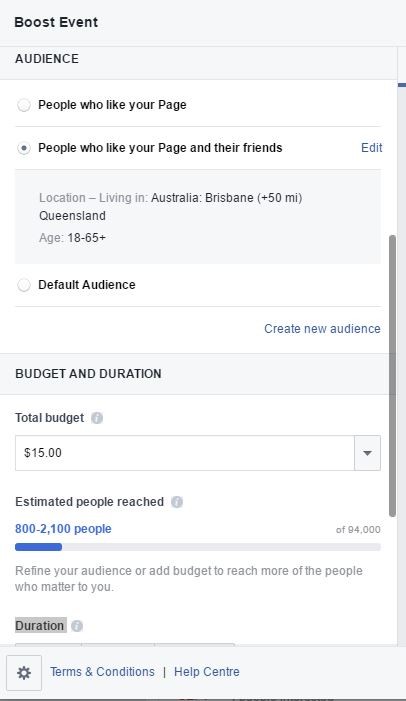 Option #3 – Target the right people
According to research, only 2% of website visitors convert on their first visit, so it's important to not only be reaching the right people, but to re-target them when they leave your site. In this situation, your best bet is to try re-targeting them through Facebook using a customised audience list. According to research, customised audience targeting has:

– a 387% higher conversion rate than demographic targeting (Insights Marina Software)

– a 14% lower cost per click (CPC) than category or interest based targeting alone (social media today)
– & a 64% lower cost per conversion than category based targeting alone (social media today)
To create a custom audience, simply click into the 'create audience' section of your Facebook advertising account, and choose a selection from the dropdown box. A good choice may be to choose the option: 'people visiting specific web pages but not others.'   
As with anything else, sometimes it can be a bit of trial and error to discover what works best for your business, but hopefully this post has given you a few good places to start! Don't forget you can sign up to our FREE Webinar 'Facebook Tips & Tricks for Business' to learn more. If you missed Parts 1 – 3 of this blog series, just click below to re-visit or read them!
Part 1: Why Facebook is the King of Social Media!
Part 2: 5 Ways to Get The Most Out Of Your Facebook Business Page!
Part 3: Will These Facebook Updates Affect Your Business?
If you're curious about how to start implementing Facebook into your business, but aren't sure where to start or how to create your first Facebook ad campaign, don't worry – SponsoredLinX can easily set your business on the right path!
We have several dedicated social media experts who would love to help you get the best our of your Brand.