Uncover Our Top SEO Tips & Tricks!
If you truly want to help your website to organically rank well on online search engines, then you must know what these search engines are looking for. For example, Google's Mission Statement is, "Google's mission is to organise the world's information and make it universally accessible and useful".
But as a quick re-cap, what is Search Engine Optimisation (SEO)? It's essentially optimising your current website or relevant landing pages to be identified as being the most relevant results for a specific search term when it is entered in Google Search.
There are so many reasons for utilising a SEO marketing method. Good SEO rankings for your business website provides a sense of stability and reliability for users, which means they are more likely to trust your business and your brand, even before a transaction takes place. Trust takes a long time to build and can be erased in seconds, and SEO goes a long way when it comes to developing a steady trust relationship with your customer.
So when Google announces new algorithms or updates to the way it ranks results in its search engine results page, we take notice. Google is always looking at the user experience. Since Google's Mobilegeddon update from April 2015, there have been four updates since!
Google's infamous mobile update  was for good reason too. Since 2013, the number of Australians with a mobile device, which back then was 11.4 million, is set to hit 15.1 million in 2018, according to eMarketer.
According to the U.S. Digital Future in Focus 2015 report by comScore, released in March, 2015, Internet search is now mobile with smartphone usage in the US grew by 394% from Dec 2010 to Dec 2014.
It's a lot to take in, so check out the infographic below to absorb all that SEO goodness!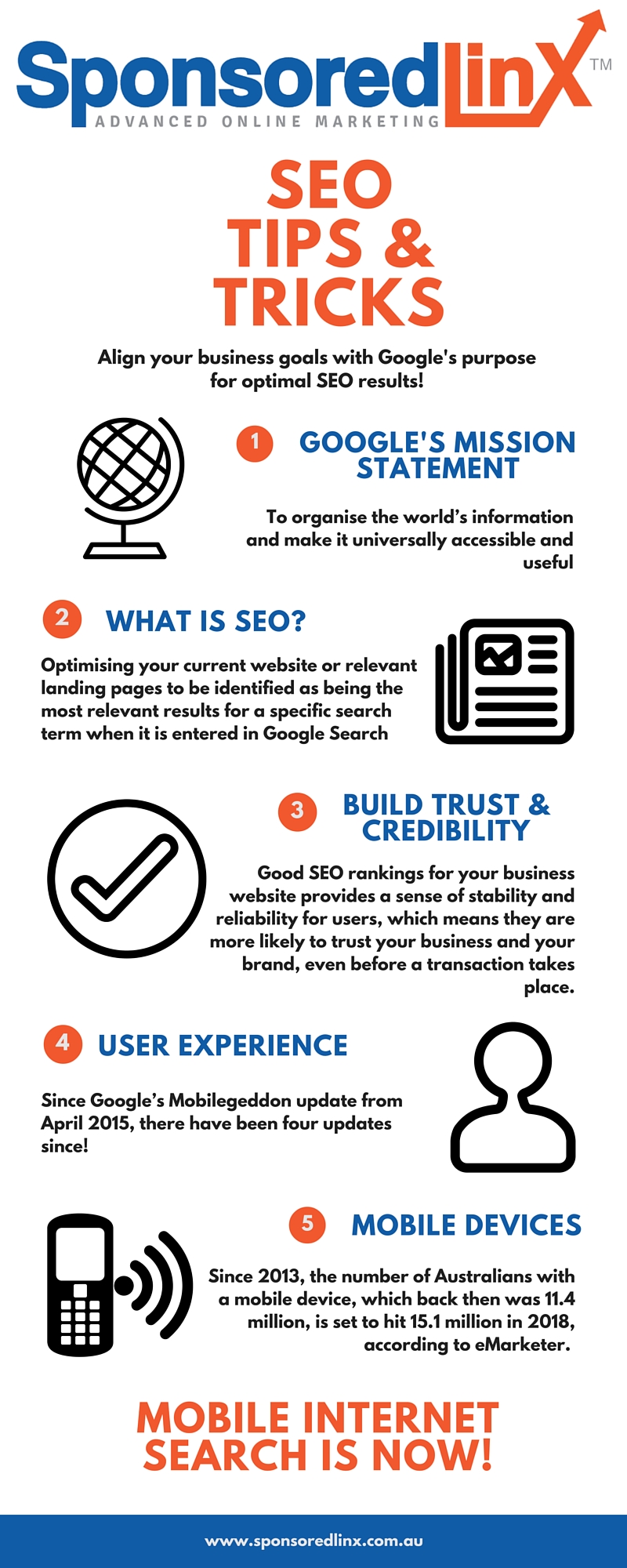 Don't forget to register for our SEO Tips & Tricks Optimise Webinar, which will launch on Wednesday 17th February 10:30 am AEST, and in the meantime, if you have any queries about our SEO services, simply give us a call on 1300 859 600 or visit our website. We'll see you there!