Reducing Bounce Rate to Increase Website Engagement – Part II
For the second part in the 'Reducing Bounce Rate' blog series, we continue with the list of aspects which may be affecting your website and what you should be doing to fix them.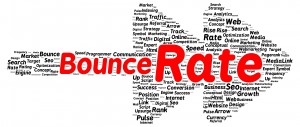 Broken Navigation/Links
Run a link check over your website and make sure that if someone wants to visit a page on your website that its accessible. There are a few resources on Google you can use find that do link checking, click here for one.
Targeting the wrong keywords
This is especially true with an AdWords campaign where you are able to control exactly what keywords are bringing traffic to your, but it should also be considered when you are developing content for your site.
Don't use keywords in your campaigns that are too broad or generic and are not specific enough to what you do. As an example, if you are selling Dog collars you could waste a lot of money and create a high bounce rate by advertising on google under the keyword 'Collars'. Sure, some of the traffic will be for people looking for dog collars, but a lot of traffic could be for people looking for cat collars.
Don't spend money on clicks that are not 100% relevant and don't put content on your website that is not directly related to your core business or you will see your bounce rate increase.
Site not designed for target audience
Always consider your target market when designing your website. If you think that your potential audience is older make sure that the colours and fonts are easy to read and there is a strong contrast.
If you offer services that may be needed quickly, like plumbing or lock-smiths, make sure these emergency services are quick and easy to find.
Website looks too expensive
This could be considered understanding your target market, but it's also making sure you understand your position in the market. If you offer a cheap and easy service it could be off putting to someone who gets the impression that your website looks too expensive or 'elite' for them.
I have seen multiple cases where a new website design has reduced the effectiveness of the website because the look doesn't fit with a client's position in the market.
Website looks too cheap
This can swing in the other direction too. If your business offers are considered to be placed higher or more expensive in your market make sure your website portrays the professionalism and prestige that represents your brand.
Website does not look legitimate or trustworthy
Whether your site looks no frills or it goes the whole 9 yards in design, there is something to be said about trust. No matter what you do it's always good to make your website feel 'real'. Get away from stock photography where possible; get photos of your team and premises. Show the personal side of your business so you are not just another cookie cutter pop up shop with generic testimonials and photos that don't mean anything.
It's also a great idea to have your contact information clear so that people know who you are and how they can contact you.
Google Analytics is not installed properly
It's no good trying to fix a problem that doesn't exist! Always check that your tracking code has been setup correctly across your whole website. If you have chrome there is a great extension by google called 'Tag Assistant' which can tell you which tags have been setup on your website. You can get it from the Chrome web store here.
Weak unique selling proposition
In business and online you should have a clear selling proposition that you want to use to separate yourself from your competition. No matter what the message is you want this to be super clear and visible from all of your landing pages. Perhaps it's just that unique difference that you offer which helps a user stay around on your website longer.
Landing page information is not quickly digestible
I would usually recommend breaking up each of your web pages into 2 separate sections. The first half of the page which most people will read without much scrolling should be short and to the point. A brief paragraph explaining exactly what the page is about, and then usually some dot pointed notes that make it easy for the easily distracted user to digest.
This first half of the page really gets to the point and allows you to get your key information across quickly. The second half of the page is then used for going into more detail. This way you have covered both your bases, a quick digest of information followed by in depth detail about your product or service.
That brings is to the conclusion of the second part in this blog series. The third and final part will take a look at optimisation techniques and graphic design features, so stay tuned!