Kokoda Youth Foundation – A message from history with a modern twist
This article originally appeared in the Q3 2015 issue of Optimise Magazine. You can read the entire e-magazine here. 
It is easy to get wrapped up and lost in a world of 'revenue', 'growth', 'key performance indicators' and 'return on investment'. We are constantly encouraged to look forward, to grow and to be 'more in the moment'. Modern society is increasingly obsessed with the perception of 'self', technology, being connected, and consumerism. We always want more. However, it can also be argued that as a society we have never felt more disconnected, disengaged and vulnerable than in our current time. How is it that we can be making advances in so many areas which are designed to bring us closer together and yet, our sense of self and community feels under constant threat?
To be sure, this is not the sentiment of everyone, but with a continuing trend of Australians being disengaged with their work life, and with youth disengagement on the rise, there is a need for community based initiatives to help bridge the widening gap between the 'have' and 'have nots', and to re-engage with the disenfranchised people of our society.
Our modern history suggests that as a united people, we have the ability to come together in ways many of us cannot imagine. Step back in time to 1942 when, during World War II, a defensive campaign in Kokoda was launched by the Papuan Infantry Battalion and the 39th Australian Infantry Battalion. This event resulted in the torments of many soldiers due to what they went through to defend Australia, and some who gave the ultimate sacrifice. Australians have a deep emotional connection with this time in history, and the Kokoda Youth Foundation aims to promote the values of courage, endurance, mateship and sacrifice which are inherently linked to the history of the Kokoda campaign.
The Kokoda Youth Foundation, founded by veteran Doug Henderson OAM, established the registered charity in 2004. Their aim? To support young Australians and inspire them to achieve extraordinary things. The charity endeavours to reconnect with young Australians through a series of carefully constructed programs in which they challenge their deeply held beliefs and allow them to explore their limits and abilities whilst providing them with opportunities for personal development. One of the programs even takes the Kokoda Kids (as they are affectionately known) to Papua New Guinea in September each year for just under two weeks, where they have the opportunity to explore the Kokoda trail and visit war memorials and mingle with coastal villages and their people.
To fund the programs they hold a series of events, namely The Kokoda Challenge series and The Stampede, which are team trail walking endurance or obstacle course events.
Some may argue that the qualities the Kokoda Youth Foundation aims to instil in its program participants are out-of-touch and not relevant for today's youth. But when you learn and listen to the myriad of issues confronted by today's teens on a day-to-day basis such as their dependence on technology, social ostracism, unstable domestic environments, and an expectation of instant gratification, you realise these young people are in dire need of guidance and support. The Kokoda Youth Foundation program cuts through to their core values which they require to function as well-adjusted adults in today's society. These 'old-fashioned' messages are then communicated in a modern manner through the use of online technology to connect with young people. Through the use of video content, imagery and using language familiar to them, young people can also be educated that digital technology can also be used in a positive way.
What does any of this have to do with online marketing? In order to provide these services, fundraising events and donations make up a large part of how any charity continues to function. Leveraging digital technologies can help a charity to get their message heard in an increasingly competitive market, and the Kokoda Youth Foundation is no different. It is here where the working relationship between Kokoda Youth Foundation and SponsoredLinX has an opportunity to shine. Having access to a Google Grant, which is a donation program Google has set-up for non-profits, helps enormously in getting the message out there, and SponsoredLinX helps to manage their Google account so that Kokoda Youth Foundation can stretch the funds as far as they will go. From social media use, Google AdWords and App based technology, it's imperative that an integrated digital marketing approach is used to attract the right audience. Rachael Charles, a Digital Marketing and Social Media Officer for the charity, explains that, "…using a wide variety of tools available not only effectively markets your brand to a huge range of potential clients, it shows that your business is relevant with today's technologies and instils confidence in the brand".
Rachael also insists that social media, as the charity's primary online platform, is "…paramount to the level of exposure required to promote our event, and make it as easy as possible for competitors to spread the word about them and the message behind it". Social media platforms such as Facebook are a perfect example of this. With the ability to easily share content (including user-generated content) through the online platform, people can feel closer to the brand, its message and values.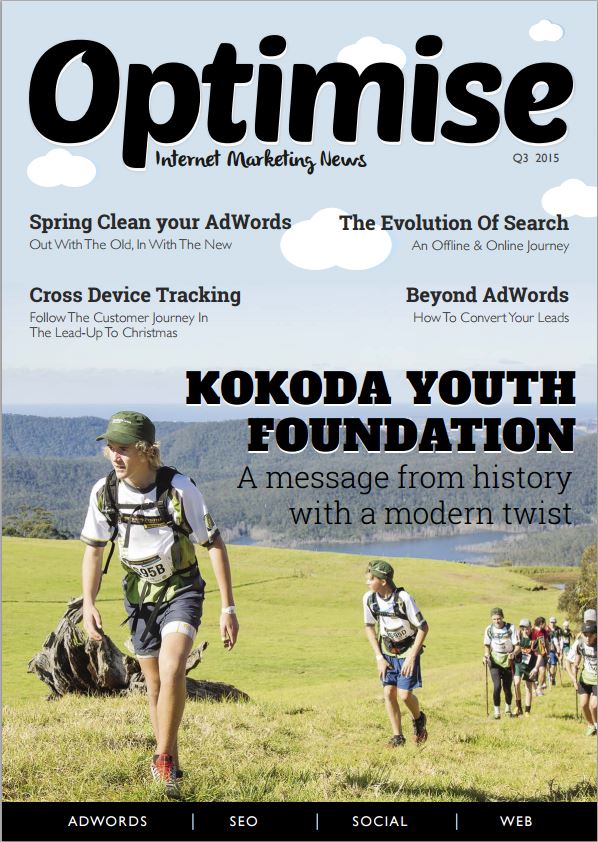 It's not just off the field where they're looking to integrate digital technology, but on field as well. With App based automation like Geo-Fencing (which uses GPS to define locations) the charity could soon be sending digital messages of encouragement to participants as they trek around their Challenge courses! But it's not just about marketing and branding; the charity truly believes in the values they promote. Rachael explains, "we are not another 'corporate face' behind a charity as it just doesn't reflect our values and what we are trying to teach our program participants. Having this approachable image also makes it easier for potential participants for our youth programs reach out to us".
Jess, one of the Kokoda Kids who participated in the program in 2014, could not have proclaimed her belief in the initiative enough. Jess exclaimed, "we get lost in the fact that we have everything that we forget other world problems. We have so many luxuries yet people still continue to complain; if only everybody could see what I have seen and realise all you need is your family". It's responses such as these why people are so drawn to fundraising and competing in the Challenge series events. Zara, a 2014 Kokoda Challenge competitor said, "What is guaranteed from completing an event such as this is that you will learn more about humanity in its purest form and about yourself by stepping out of your comfort zone".
It's easy to see what is unique about Kokoda Youth Foundation; they not only provide services to help the young people of Australia to reconnect with the best version of themselves, but they also create an environment where the people who donate to this cause can learn about themselves as well. So before you get back to the chase of growth and revenue, make a promise to reconnect with the best version of yourself. Stop and think about how you got here and just how different your life might be if history had unfolded in a different way, and remember just how lucky we truly are.
If you're interested in competing in one of their fundraising Challenge series, you can visit their website at https://kokodachallenge.com/kokoda-challenge today. Or, if you'd just like to donate, you can visit https://kokodachallenge.com/donate-online.